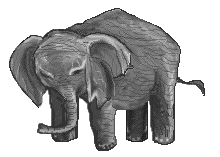 ---
Greetings in Kiswahili

Hamjambo, wanafunzi wa East Africa!

Habari gani?

Hakuna matata katika Jefferson State.

Jefferson si ghali sana,

na Jefferson ni skuli mzuri sana.

Karibuni nyote katika Jefferson State.

Kwaherini ya kuonana!

---
---

The lion from East Africa reminds me of a question I often get from
Kenyans and other Africans.  

Q.  I speak English and I studied English in school.  Why do I have to
    to sit for the TOEFL exam?

    A.  If you come from a country in which the official language is
        English, you don't have to take the TOEFL.  But if the legal
        official language of your country is Swahili or French or
        some other language, you must take the TOEFL!

        When you go to the US Embassy for your student visa, the visa
        clerk will insist on this matter.  Kenyans will not get F-1
        student visas unless they present TOEFL scores.  At the moment
        the only Africans exempt from the TOEFL are citizens of 
        Liberia and South Africa. . .English is official in those
        countries.


---