Cleaning out drawers and boxes and old cedar chests and the like, I continue to discover old photos. Just browse the album and add appropriate comments at the bottom of any of the photos. Warning! This album contains a few pictures of people we usually try to forget about -- you know, ex-wives, former in-laws, bratty kids, kidnappers, etc.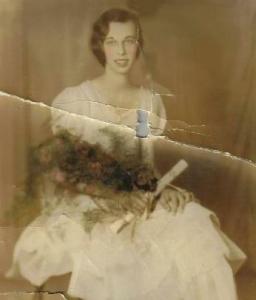 Mimi (unrestored) (June 1932)
When I found this photo, it was torn in half and even missing pieces. The next photo is a restored version I did on PaintBuster.