The purpose of the first few images in Album #13 is to create an impression of what a national level talent competition in Panama City is like. (Also check out Album #12 where the first couple of dozen photos are from 2008 Nationals.) Also included are pictures of Kim and Thom's wedding trip to New Orleans where they took part in the Running of the Bulls. And, at the end of the album are three old photos that I found in drawers around the house.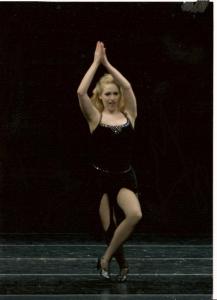 Sarah at Nationals, 2009
This is Sarah's First Place performance as Velma Kelly from "Chicago." Here she is doing an Egyptian move.