This album starts with a whitewater rafting trip to the Ocoee River in Tennessee. (You don't see me in the raft because my job was to wander up and down the Ocoee taking pictures.) You will also find photos of our sons Michael and Thom preparing to play golf and actually getting along like adults. This album also includes various pictures of how I looked at different stages of recovery after my cranial surgery. On December 20 and 21, 2009, Sylvia, Kelly, and Carter came for a brief visit, so I added a few shots from that visit. There are also shots of our Christmas decorations for 2009. Some National Championship shots and a few shots of a really cold Sunday morning in January. Also, on January 28, 2010, Michael and his little family stopped by for a visit. There are a few shots of the snowstorm on February 12, 2010; and a few of Michael's new dog, Mangler. Also a few shots from the Maasquerade Talent Competition near the end of February.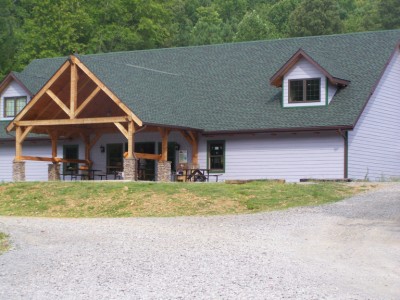 The Nantahala Ocoee River Outpost (August 1, 2009)
The whitewater adventure started here, about 30 miles northeast of Chattanooga, sort of near Cleveland, Tennessee. You have to drive all the way into the wilderness on narrow, unpaved roads to get to point A.